Saving the Historic Enos T. Hotchkiss Barn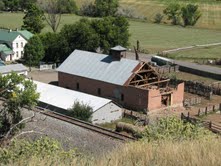 Hotchkiss, Colorado
When a severe windstorm damaged the roof of the historic and iconic brick barn built in 1886 by the founding family of the town of Hotchkiss, saving it became a priority. IAWC serves as the 501 C 3 sponsor and administrator for a State Historic Grant.
Long ago in the summer of 1882, Enos T. Hotchkiss and his wife Elizabeth built a log cabin that also served as the post office. In 1885 they hired builder Harry Bopp to construct their barn. Unusual for its time, the barn is over 4,000 square ft with a length of 100 ft by 40 ft wide. Using pioneer brick made near the property, three layers of brick formed the one-foot thick walls.
As the first major structure in the North Fork valley, the Hotchkiss Barn is historically significant as an icon to the community for more than 130 years. In the summer of 2010 a powerful windstorm damaged the barn, ripping off approximately one fourth of its roof.
The current grant is Phase One of a planned two-phase project. The objective is to create a plan and a set of documents that enable a construction team to restore the barn to its original condition. Phase One runs from March 2013 to October 2013.
Recognition of the Hotchkiss Farm is noteworthy. It is designated a Colorado Centennial Farm, signifying that it has been owned by the same family for more than 100 years. It is listed on the National Register of Historic Places. Recently the family put the entire homestead into a Conservation Easement. The grant was a 50 /50 match, with the community and family providing the other half. For more information: SavetheHotchkissBarn.org
Enos T. Hotchkiss Barn