H.F Barlow Homestead Archaeological Dig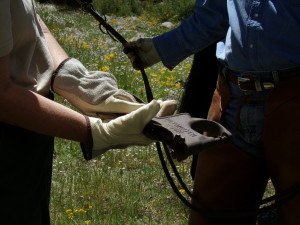 Barlow Dig – Summer of 2013
Historic Homestead Preservation project 
Archaeological Investigations at the H.F. Barlow Homestead.
During the summer of 2014, archaeologists from Alpine Archaeological Consultants, Inc. and the USFS – Grand Mesa, Uncompahgre, and Gunnison National Forests, with volunteers from the Colorado Archaeological Society – Chipeta Chapter, conducted an excavation at a historic homestead in the Uncompahgre National Forest.  The homestead was located on Iron Springs Mesa on the southern end of the Uncompahgre Plateau and was occupied between 1906 and 1930 by Henry F. and Mary Barlow and their family.  The excavations were supported by a Colorado State Historical Fund Grant administered by the Interpretive Association of Western Colorado and designed to address specific questions about the life of the Barlow family.  The presentation will discuss the results of the 2014 excavation, and will examine the influence that regional and national economic and social trends had on the family, and how those trends are seen in the archaeological record.
The project was initiated because of the proposed Hotchkiss reservoir Land Exchange between the U.S. Forest Service – Grand Mesa, Uncompahgre and Gunnison National Forest (USFS-GMUG) and Spear Colorado, L.P. is a 705-acre National Forest system land parcel (Federal Parcel No.1) in the Norwood District of the Uncompahgre National Forest in Montrrose and San Miguel counties, Colorado.  Because the property exchange will remove the historic properties from further agency oversight, the exchange is considered to be an adverse effect, requiring compensatory mitigation.
The project was partially funded by History Colorado, State Historical Fund Grant No. 14-AS-002,  Grand Mesa, Uncompahgre, and Gunnison National Forest and private funds.  The project was administered by the Interpretive association of western Colorado.
______________________________________________________________________